DKS SocialSmart searches for keywords on the Internet (websites, blogs, forums, social networks,…), identifying the contents of interest doing a ranking of importance .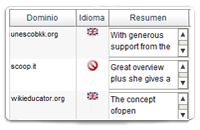 This relevance is calculated depending on what you want to prioritize:
The number of times that the keyword is repeated in publication..
Keyword position in the text (title, subtitle, footer,…).
Page ranking where is the keyword (Alexa rank, pagerank,…).
It provides for each keyword:
URL in which the publication appears.
Publication language.
Content summary.
Relevance.